ARAI HELMET LTD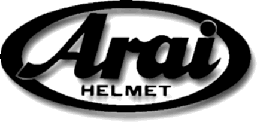 To get general information about Arai products available in your territory, please select one of the market information icons below.
for Australian market

for European market

for Japanese market

for North & South
American market
www.araiamericas.com
Specifications and statements on each home page refer primarily to that market and may not apply to other markets' home pages.

WARNING !
Each world market requires different helmet standards.
Never purchase helmets from outside your market as it may not comply with legally required
standards for your country.